Notes:
★ If you'll be taking any, please
credit
dia_aren_marie
@
iconara
and
comment
saying which ones you'll be taking. It helps me know which styles work and which aren't so good. :) I'm not claiming that the scrapbook designs are mine or anything, I only ask for credit for the time and energy I put into making these textures/scans. Thank you! ♥
☆ The individual paper scans are hosted on
MediaFire.
They're uploaded like that because they're huge! Unless you know an image-hosting place that allows files over 1MB? If any of the download links expire, or if you have trouble downloading from there, feel free to ask for a re-upload!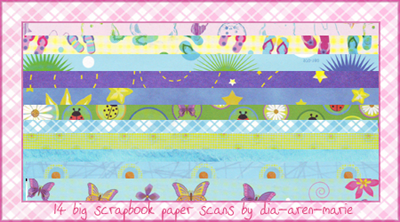 (
Download links and table right over here!
Collapse
)